Seaweed Recipes
The ocean's superfood
Seaweed is packed with organic glutamates – the building blocks of the fifth taste: umami. Rich, savoury and moreish, umami is the king of flavours. It's also found abundantly in seaweed and kelp! Each type of seaweed has a different flavour profile – some are fresh and green, while others are rich and nutty. Seaweed is also full of vitamins, minerals and antioxidants that lower cholesterol and support thyroid function. We invite you to explore this new spectrum of flavour – welcome to the world of seaweed!
We've come up with sixty seaweed recipes to satisfy all tastes and preferences! We're on a mission to bring seaweed into the modern kitchen. In order to do that, seaweed needs to be easy to cook with, and exciting to eat. That mantra was at the forefront of our minds when we put these delicious dishes together.
Some of these dishes incorporate our seaweed spice blends; so simple to use that you might forget you're even cooking with seaweed! However, if you're feeling more adventurous, there are plenty of recipes that call for the use of whole leaf seaweed – the true ocean vegetable. No matter your skill level or experience, there will be something here for you. With simple instructions and vibrant images, this is cooking with seaweed made easy!
Seaweed recipes:
Sea you at dinner!
Seaweed is packed full of vitamins, minerals and antioxidants that support thyroid function, protect your heart, and reduce the risk of diabetes and cholesterol. It's also delicious, and acts as a natural flavour enhancer! Keep browsing through our seaweed recipes to find the right one for you.
Spiced sweet potato and chickpea burger
This sweet potato and chickpea burger is spiced with Lofoten Seaweed's BBQ & Meat spice blend - a hot and smoky blend of smoked paprika, chilli, garlic and winged kelp. This take on a classic veggie burger recipe is made extra delicious by the addition of seaweed, a natural flavour-enhancer that makes every other flavour pop! This is a vegetarian recipe that can easily be made vegan by swapping out the aioli or mayo for a plant-based alternative, like ketchup! If you have time, putting the burger mixture into the fridge for a couple of hours (or even overnight) helps the patties keep their shape when frying.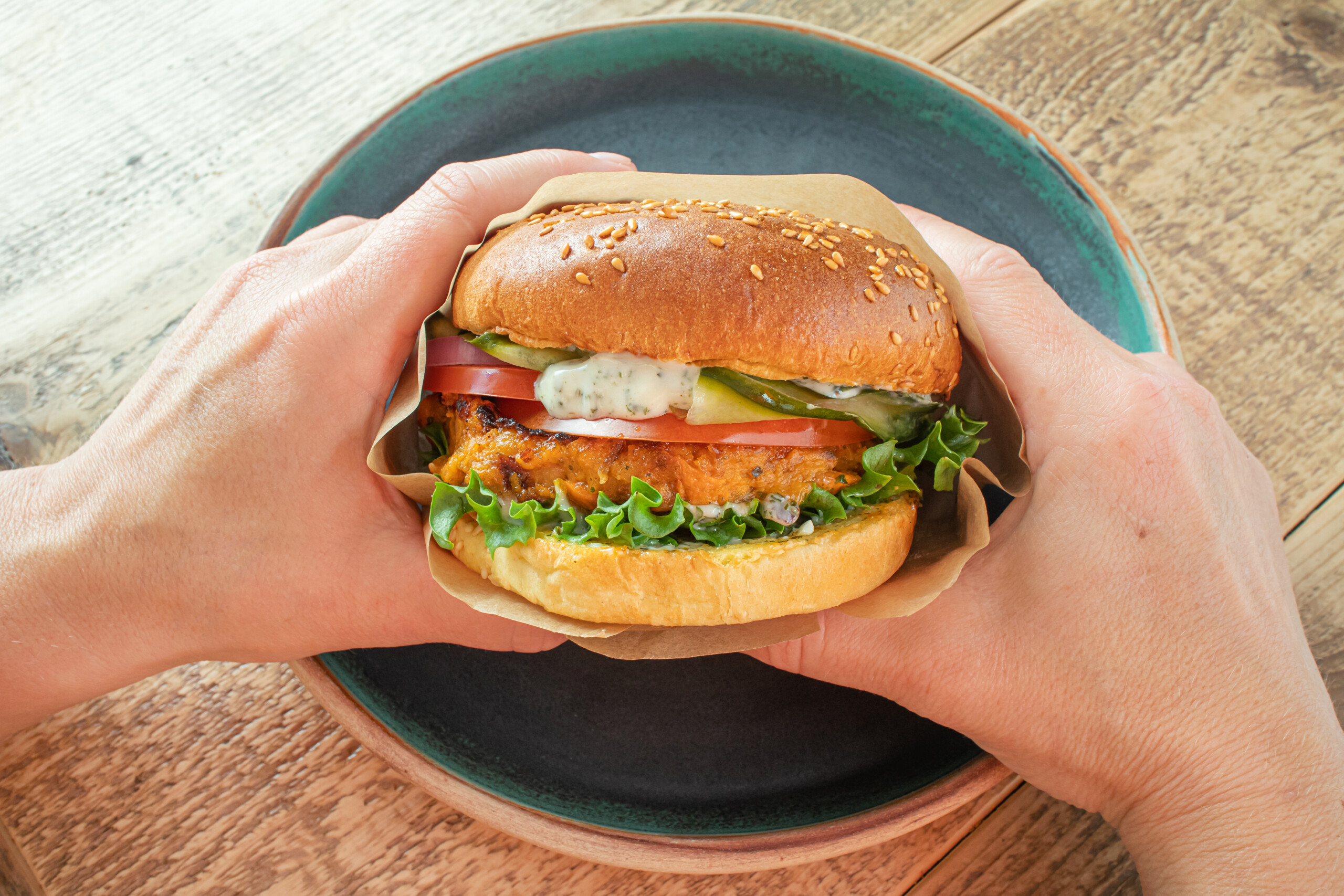 Try it out!