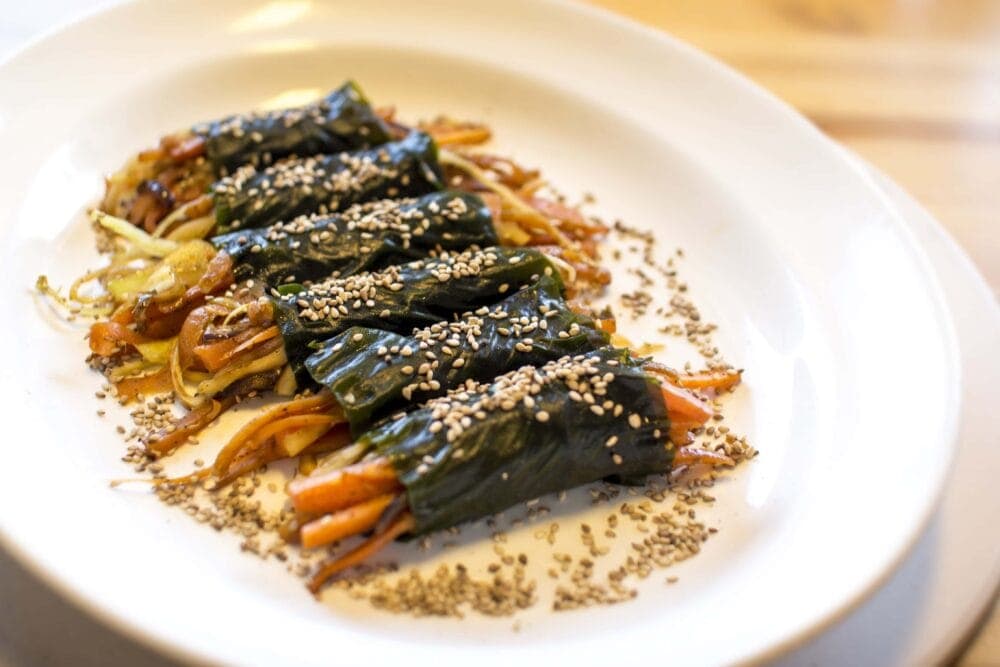 Winged Kelp Rolls
Ingredients:
2 long winged kelp strips (around 120-150 cm)
1 onion
3 carrots
¼ cabbage
2 garlic cloves
3 tbsp sesame oil
2 tbsp soy sauce
1 tbsp rice vinegar
2 tbsp toasted sesame seeds
1. Blanch the winged kelp. When cold, remove the stems and cut the seaweed into 12-15 cm stripes.
2. Cut the onion, the carrots and the cabbage into thin strips. Crush the garlic.
3. Sauté the garlic and the onion in a frying pan with sesame seed oil until golden.
4. Season with soy sauce and rice vinegar.
5. Add the stripes of cabbage and carrot and sauté 2-3 minutes longer, until cooked but still crunchy. Let the vegetables cool down.
6. Fill the winged kelp stripes with a bit of the vegetable mixture and roll.
7. Sprinkle with toasted sesame seeds.