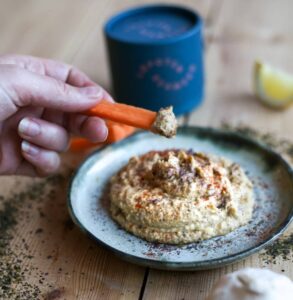 Seaweed Hummus
This recipe serves 6
Cooking time: 15 minutes
Ingredients:
2 cans chickpeas
2 cloves garlic
4 tsp tahini
3 tsp cumin
1 tsp paprika
3 tsp simply seaweed
1 1/2 lemons
Salt and pepper to taste
Directions:
1. Drain chickpeas and keep the water from the can.
2. Dice the garlic.
3. Put the chickpeas in a mixing bowl. Use a food processor to blend the chickpeas. Add chickpea water and lemon juice until you reach your desired consistency. Make sure to taste as you go.
4. Add garlic, tahini, cumin, paprika, salt, pepper and simply seaweed slowly. Blend together and keep tasting until you are happy.
5. Serve with crackers or sliced vegetables as a refreshing dip.