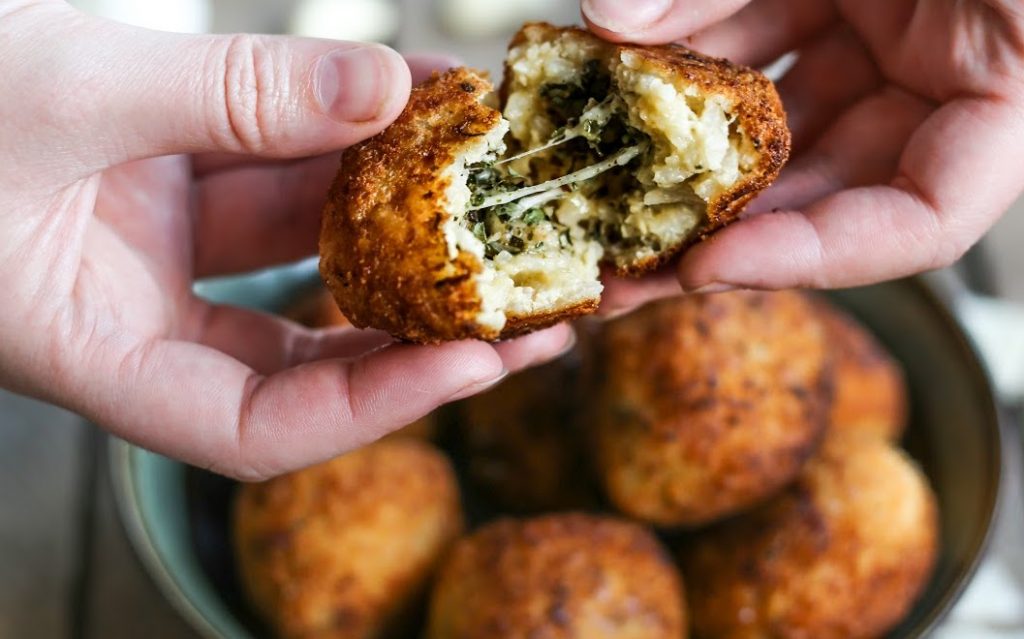 Arancini Seaweed Balls
This recipe makes 16 balls
Ingredients:
1 onion
2 cloves garlic
3 cups stock
1 cup aborio rice
2 tbsp walnuts
½ cup mozzarella
½ cup fonita
2 tbsp Simply Seaweed
2 eggs
½ cup parmesan
1 ½ cup bread crumbs
Oil to fry
Directions:
Dice onion and garlic. Take a large pot, add a dash of oil and add the onions. Cook until golden then add the garlic.
Add the stock and rice to your pot. Bring the heat low and place a lid over the pot. Let simmer for 20 minutes or until the rice is soft.
When the rice is ready, remove it from the pot to a lined tray for the rice to cool. Let the rice cool to room temperature before continuing.
While waiting, combine mozzarella, fontina, chopped walnuts and nori in a bowl.
Beat the eggs in a large mixing bowl and stir in the room temperature rice. Mix in ⅔ cup of breadcrumbs and the parmigiano.
Take a flat plate or dish and pour the rest of the breadcrumbs onto it.
Now using your hands make a 1 ½ inch ball of rice then press your thumb into the center and put in 2tsp of the walnut and cheese mixture. Pinch together the ball and roll it in the breadcrumbs. Repeat this until you are out of rice.
For best results refrigerate the balls for 1 hour.
When you are ready take a frying pan, add 1 ½ cm of oil and wait until very hot. You can test it with one of your arancini balls, place it in the oil and if it starts to bubble around the edges your oil is ready.
Add your arancini balls in batches of 4 or 5 at a time and turn every few minutes until golden on all sides. This usually takes 3 – 4 minutes. Remove them from the pan with a slotted spoon and place on some paper towel. Repeat with all of the balls.
Season and serve with you choice of accompaniment.
Enjoy.