Arctic Circle Forum Japan
---
Jump to:
---
---
---
The fusion of Arctic and Asian cultures sits right at the heart of Lofoten Seaweed, so we were really excited to take part in the Arctic Circle Forum in Japan this week! This event is designed to highlight the ways in which our food cultures overlap, in order to promote successful and sustainable collaborations between Arctic producers and Japanese chefs.⁠
We teamed up with Bottarga Boreale to provide arctic ingredients to chef Saori Ichihara, who created an amazing Japanese vegetable stew with tempura nori, bottarga, pickled dulse, nori broth and algae pearls. Norway and Japan have a long history of celebrating each other's culinary traditions – just google salmon sushi – and it feels amazing to be a part of that continuing relationship.⁠
Arctic Circle Forum Video
Watch Tamara & Angelita team up with Bottarga Boreale and chef Saori Ichihara for the Arctic Circle Forum, creating deliciously authentic Arctic-Japanese fusion food:
Arctic Circle Forum video transcript
Saori Ichihara: Hi Tamara and Lia, this is Saori, I'm a freelance chef. I've got a big magic box of ingredients from both of you.
Lia Berti: Hi Saori, this is Lia from Bottarga Boreale, we are a seafood company based in Tromsø.
Tamara Singer: Hi, I'm Tamara, one of the co-founders of Lofoten Seaweed. My mum is Japanese, so I've grown up eating seaweed all my life. We have seaweed types such as winged kelp which is very like the Japanese wakame, oarweed which is very similar to the Japanese kombu, there is also one type of seaweed we call truffle seaweed.
Lia: This is Bottarga, the classic one, which was the first product we came out with. My curiosity is as Tamara says, what did you think of these products when compared to karasumi or mullet bottarga? What was your impression?
Saori: My impression was that it has very clean flavour. I was quite surprised, I tasted it with my parents and they also liked it very much. What I'm trying to do today with it is actually tempura.
Lia: I never thought of that, that's amazing! Would you be able to take a picture?
Tamara: I'm jealous!
Saori: While I'm waiting I'm going to shave a little of this [bottarga].
Tamara: Wow that looks fantastic.
Saori: This time I cooked the whole thing, all that flavour that's stayed there together.
Tamara: This is the other half of the company Angelita, she just wanted ot have a peek at what you were doing Saori!
Angelita Eriksen: I'm so curious!
Saori: Thank you for wonderful products. This is the dish.
Lia: This is completely out of anything I could have thought of…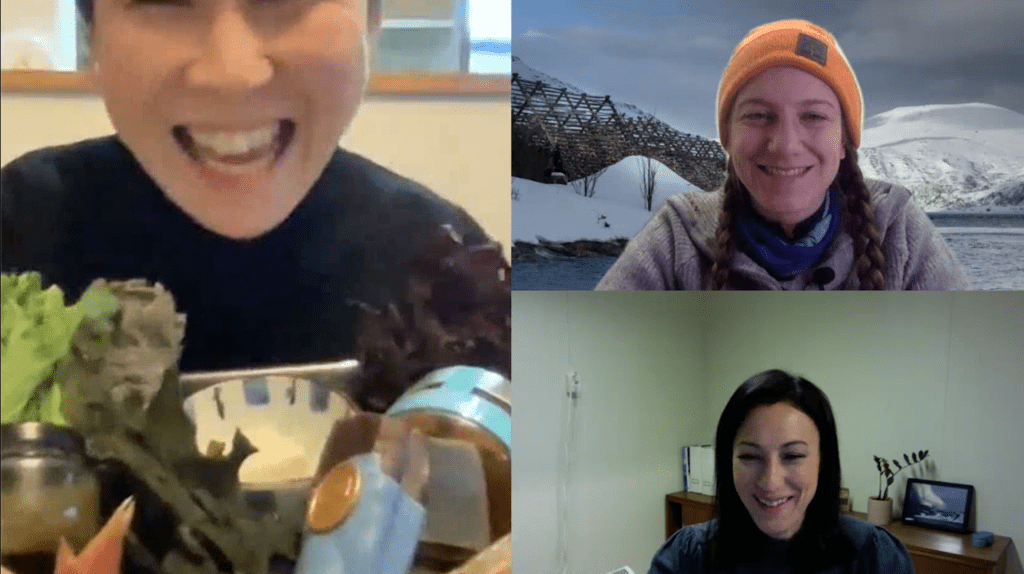 About the Arctic Circle Forum
Arctic Circle is the largest network of international dialogue and cooperation on the future of the Arctic and our Planet. It is an open democratic platform with participation from governments, organizations, corporations, universities, think tanks, environmental associations, indigenous communities, concerned citizens, and others. It is nonprofit and nonpartisan.

https://www.arcticcircle.org/about
The Arctic Circle Japan Forum – Asia in the Future of the Arctic – took place in Tokyo on March 4-6 2023. Over 300 participants took part in the program which contained over 50 Sessions. The Forum was organized in association with the Sasakawa Peace Foundation and The Nippon Foundation.

https://www.arcticcircle.org/
The stated mission of the Arctic Circle is "to facilitate dialogue and build relationships to address rapid changes in the Arctic" and "strengthen the decision-making process by bringing together as many international partners as possible to interact under one large 'open tent.'"[6] 

The organization was established in response to issues facing the Arctic as a result of climate change and melting sea ice—such as oil and gas exploration, environmental concerns, national security, and the effects on indigenous populations — as well as the growing international interest in the region.

With the opening of shipping lanes and other economic activity in the Arctic, the organization says, the region "is moving to center stage and is playing a significant role in issues such as globalization, economic development, energy exploration, environmental protection and international security."[7]

https://en.wikipedia.org/wiki/Arctic_Circle_(organization)