Tangeriet: the first seaweed restaurant in Norway!
… seaweed restaurant?? Yes, you read it right! To celebrate the re-opening of Tangeriet, we're offering this deep dive into our history and philosophy…
Although the summer weather may be taking its time this year, the beginning of the high season is upon us, and all business owners in Lofoten are preparing themselves for the busy months ahead. Officials estimate that over half a million tourists visit Lofoten each year, and at Lofoten Seaweed, we welcome them (as well as our lovely locals) to our pop-up seaweed restaurant, Tangeriet! In 2021, five years after Lofoten Seaweed was born, we opened the doors to Tangeriet. One of the guiding principles of Lofoten Seaweed is the untapped joy of eating seaweed, so it made perfect sense to open a restaurant to demonstrate how versatile it can be.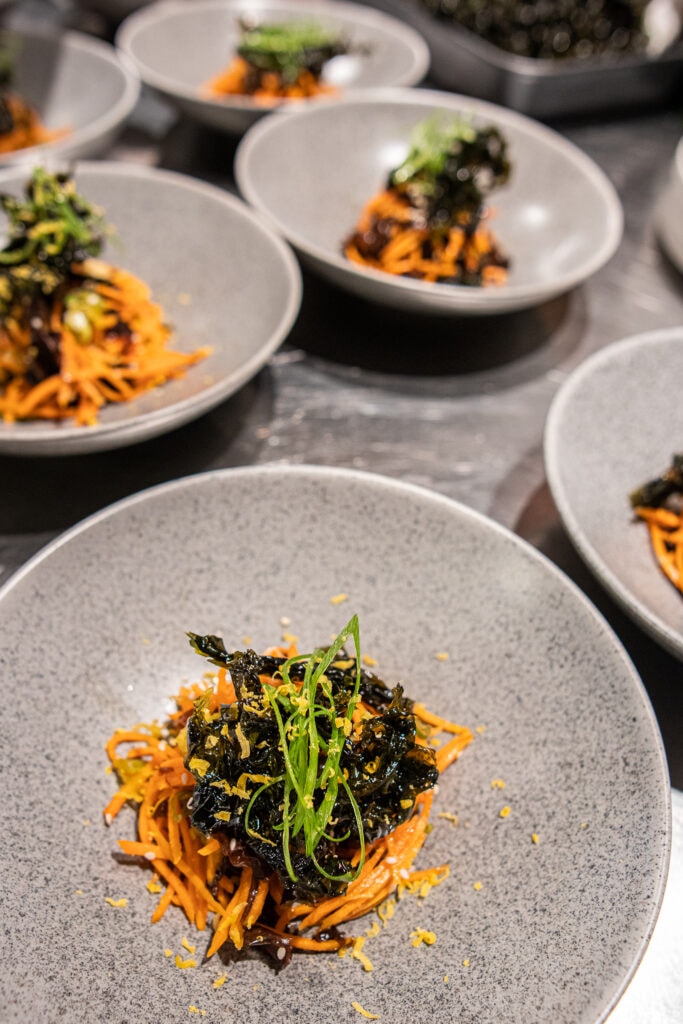 Seaweed suffers from an unfairly negative reputation. With a name brings to mind unwanted growth, beach litter and funky smells, the wonder of algae is often overlooked in favour of familiar or fashionable seafood. Ironically, the way we harvest the overwhelming majority of seafood is seriously detrimental to our oceans, and the environment at large. Meanwhile, seaweed is neither unwanted, discarded or funky… except in the best sense of the word! Best of all, our harvesting methods are low-impact and carefully designed to ensure that we stimulate regrowth, instead of just taking whatever we want without considering the ocean.
This ethos not only guides our harvesting methods, but also Tangeriet's philosophy. We strive to be a zero-waste restaurant, using every part of every plant or animal product that comes through our doors. We believe that with just a little creativity and care, produce that normally gets thrown away can be transformed into something delicious. Take for example our seaweed for bread, the dried and finely milled stems of winged kelp, too tough to eat in their raw form, but making a fantastic and fortifying addition to breads and baked goods!
We knew we would need to find someone who loved seaweed as much as we do, and who had the skills to breathe life into our idea. Luckily, our paths crossed with Jacek Kukielka in 2021, and we couldn't have asked for a more perfect person to help us realise our vision. Jacek has worked everywhere from Michelin starred restaurants to Tibetan temples. After spending several years working in South East Asia he has a fantastic understanding an appreciation of seaweed as an umami-rich vegetable – not just something that holds your sushi together!
Jacek has created a multi-course tasting menu which has edible nordic seaweed at the heart of every dish. From pickled dulse to roasted sugar kelp ice cream, Jacek never fails to surprise and delight us with his seaweed creations. Tamara and Angelita often show us how seaweed can be used as a delicious everyday ingredient, and Jacek elevates seaweed into fine cuisine. We could not be happier with this partnership, and can't wait to show it off to everyone stopping by our seaweed restaurant this summer.
Since 2021 we've been working hard on the layout of the restaurant, upgrading our kitchen equipment and streamlining our booking process. What started as simply an idea just two years ago has taken shape, and we are in a better position now than we ever have been to show seaweed in its best light. With coronavirus mostly behind us, we in Lofoten are looking forward to the busiest summer since the beginning of the pandemic. Like everyone, we are delighted, and ready to welcome tourists and locals alike to our seaweed restaurant, Tangeriet.
Tangeriet is open Wednesday to Friday from the 20th May. You can book a table using the button below!