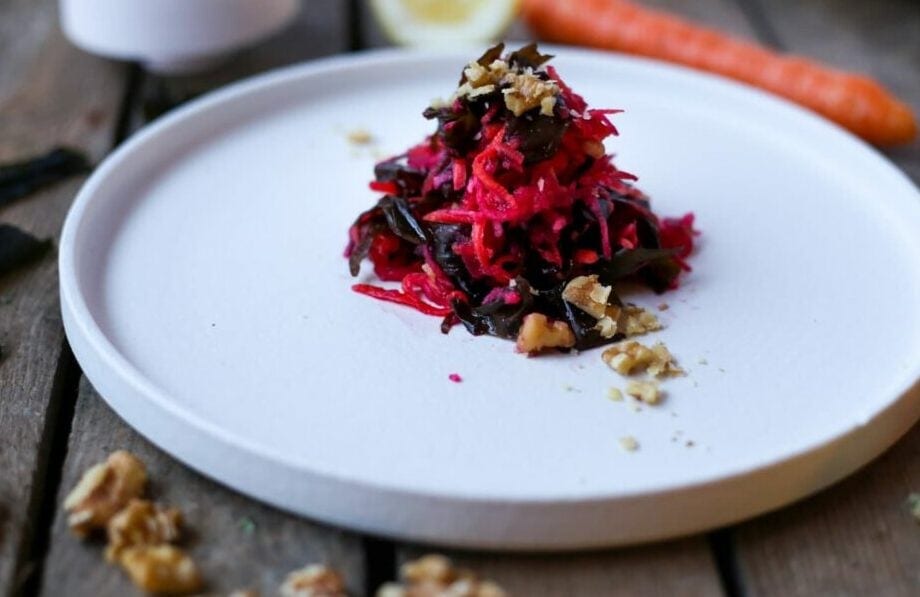 Winged Kelp, beetroot, carrot and apple salad
This recipe serves 4
Cooking time: 15 minutes
Ingredients:
2 carrots
1 apple
60g beetroot
20g dry winged kelp
30g walnuts
2 squeezes of lemon
A pinch of salt
Balsamic vinegar to taste
Directions:
1. Grate carrot, apple and beetroot into long strips. Chop walnuts into small varying sizes. Place in a medium to large salad bowl and mix well.
2. Place a pot of water on the stove at high heat. When the pot boils, place the winged kelp in the water and cook for 2-3 minutes. Remove the winged kelp from the water and pat dry. Slice the re-hydrated winged kelp into long strips.
3. Add the winged kelp into the bowl and mix well.
4. Add lemon and a pinch of salt as you like. Add balsamic to taste.
5. Enjoy!