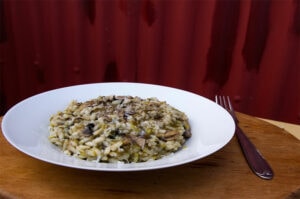 Truffle Seaweed Risotto with Leek and Mushrooms
Ingredients:
1.25 litres vegetable stock
1 large leek, trimmed, washed and finely sliced
2 cloves of garlic, finely chopped
1 tablespoons olive oil
50 g butter
400 g risotto rice
250 ml dry white wine
350 g mushroom, cleaned and sliced
2 tsp trøffeltang
1. Heat 25g of the butter and olive oil in a large saucepan over a medium heat. As soon as it's foaming, add the leeks and garlic a sprinkle of salt, lower the heat and sweat gently, for about 10 minutes, stirring occasionally. Add the sliced mushroom with a sprinkle of salt and the trøffletang and cook for a further 10 minutes.
2. Meanwhile bring the stock to a low simmer in a pan; keep over a very low heat.
3. Add the rice to the pan and stir well, then add the wine. Increase the heat a little and let bubble until the liquid has evaporated.
4. Start adding the hot stock, 1 ladle at a time. Stir often, adding more hot stock as it is absorbed. After about 25 minutes, the rice should be cooked, with just a hint of bite to it, and all the stock should be used.
5. When the risotto is cooked, turn off the heat, season with salt and pepper to taste, then add the rest of the butter. Cover the pan and leave for a couple of minutes, then stir the melted butter on the surface in. Serve with grated parmesan or goat cheese and extra trøffletang on top.