Seaweed Salt Pretzel Bites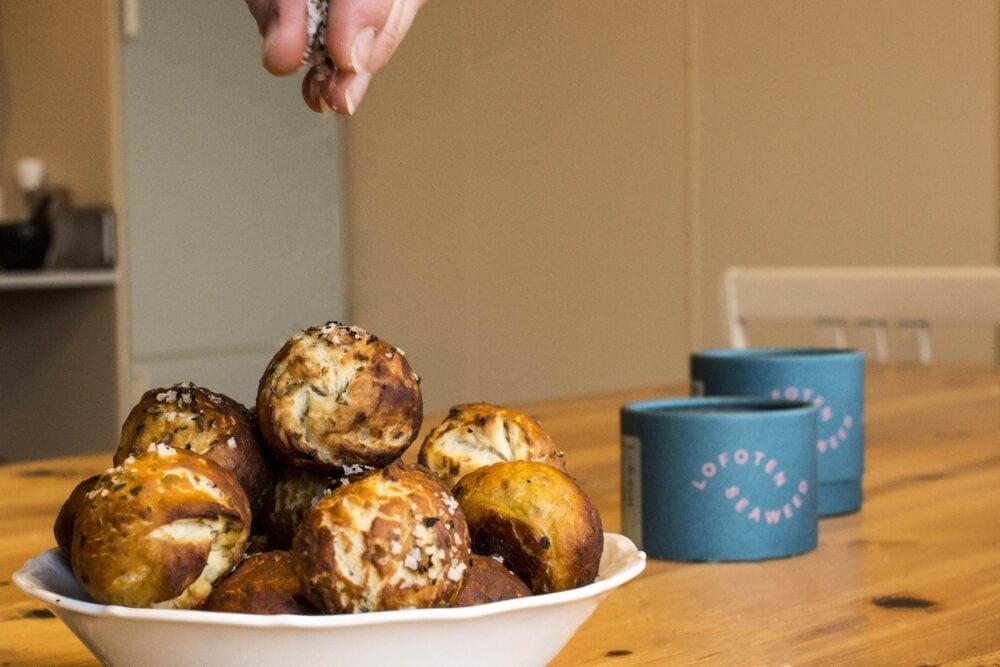 Seaweed Salt Pretzel Bites
Ingredients Dough:
250 ml warm water
20 g fresh yeast (or equivalent dried yeast) 375 g flour
¾ tsp salt
2 tbsp sugar
3 tsp Simply Seaweed
4 tbsp soft butter
Pretzel precooking:
2 l water
4 tbsp baking soda
Seaweed salt to sprinkle
1. Whisk the yeast into the warm water. Allow to sit for a couple of minutes.
2. Meanwhile, in another bowl, stir together the rest of the dough ingredients.
3. Add the yeast mixture to the bowl, and mix until it forms a dough. On a lightly floured surface, knead dough until it is smooth and elastic, 8 to 10 minutes.
4. Transfer dough to a lightly oiled large bowl and turn over to coat with oil. Cover with a kitchen towel and let rise in a draft-free place at room temperature until doubled (2 to 3 hours).
5. Punch down dough and divide into quarters. Roll each quarter into a long snake. Cut each snake into 12-14 pieces, roll each piece into balls.
6. Heat oven to 230°C. Oil 2 large baking sheets.
7. In a saucepan, bring water and baking soda to a boil (mixture will be foamy at first, but foam will dissipate). In batches add pretzel bites and cook 30 seconds, then transfer with a slotted spoon to baking sheets. Quickly sprinkle with seaweed salt before they dry.
8. Bake in oven, 8 to 10 minutes (watch closely toward end of baking; bites brown quickly in last few minutes).