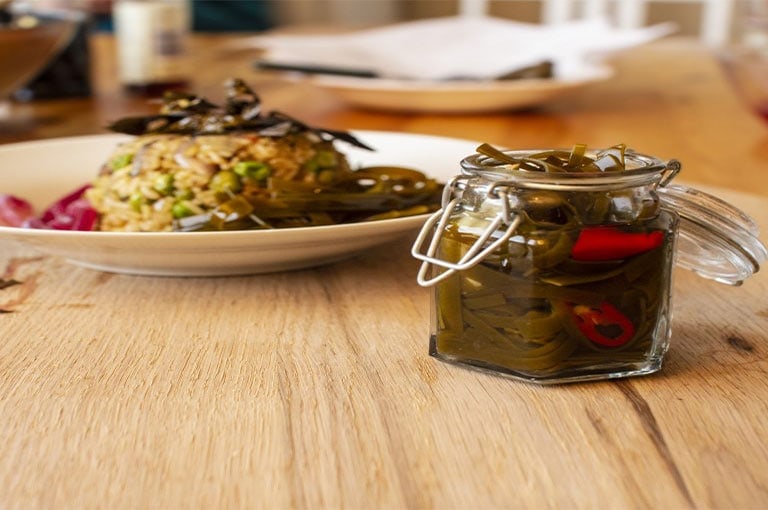 Pickled Oarweed with Ginger and Chilli
Ingredients:
175 g fresh oarweed
125 ml apple cider vinegar
1.5 tsp salt
35g sugar
5-7 thin slices of ginger
3-5 cloves of garlic
1/2 small chilli, sliced
1. Sterilize the jam jar.
2. If using dried oarweed, first rehydrate it, putting it in cold water and letting it to soak for half an hour. Once re-hydrated slice into thin strips or wider pieces according to your liking.
3. In a pan mix the vinegar, salt, and sugar with 250 ml water. Bring to the boil.
4. Meanwhile arrange the oarweed slices in the jar with the ginger, chili and garlic cloves.
5. Pour over the hot brine, so it covers all the seaweed, pushing it down if necessary. Close the jar, tightening the lid.
6. Leave to pickle for a couple of weeks. Once opened keep in the fridge. The oarweed will turn vivid green when pouring the hot brine over it, but will change its colour back to a darker green due to the vinegar. The garlic cloves may change their colour to a light blue, this is normal and perfectly safe to eat.